Responses to questions about meditation in the tradition of Fr. John Main
Fr. John Main OSB (1926-1982) has been recognized worldwide as one of the most important spiritual teachers of our time, and one whose influence is continuing to expand. He has helped many Christians of all traditions to begin an exploration 'in their own experience' of the contemplative dimension of their faith. He has provided a re-entry point for those who had left their tradition in order to find this depth outside. And he has helped build strong bridges between Christianity and other faith traditions.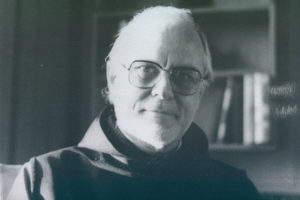 Baptised Douglas Main, he  was born in London on 21 January 1926. His roots were in County Kerry, Ireland. Educated at Westminster Choir School and by the Jesuits at Stamford Hill, London, he served in the Royal Signals at the end of the war after which he joined the Canons Regular of the Lateran for a short period. He left and studied law at Trinity College Dublin and then joined the British Diplomatic Service and studied Chinese at SOAS in London.   Attached to the Governor General's office in Malaya during the Emergency, his duties took him one day to meet an Indian monk and Justice of the Peace, Swami Satyananda. From him, he learned how to meditate and took up the discipline of silence, stillness and simplicity as part of his Christian faith and daily prayer.
When he returned to the West he became professor of International law at Trinity College, continuing to meditate as part of his Christian spiritual life. In 1958, he became a Benedictine monk at Ealing Abbey in London. He was asked to give up this practice of meditation, as it was not deemed then to be a Christian form of prayer.
However, in 1969, while Headmaster of the school at St Anselm's Abbey in Washington DC,  John Main was led to a new study of the roots of his own Christian monastic tradition. In the Conferences of John Cassian and the teachings of the Desert fathers, he found the Christian expression of the same way of meditation he had learned in the East. Now recognizing the teaching and the urgent need for meditation  in the modern world he began to practice again.
In 1975, he opened the first Christian Meditation Centre at Ealing Abbey in London and began what was to be the culminating mission of his lifelong search for God and service of others. Realizing that this way of the prayer of the heart could guide the search of many modern people for deeper spiritual experience, he recommended two regular daily periods of meditation to be integrated with the usual practices of Christian life. In his teaching, he emphasized the simplicity and universality of the practice of meditation as well as acknowledging the fact of its being a discipline.
He accepted the invitation of the Archbishop of Montreal to establish a Benedictine Priory committed intentionally to the practice and teaching of Christian meditation. This was  a new form of Benedictine life integrating monastic and lay people with the practice of meditation,  itself integrated with the Divine Office and Mass. From here, for the last five years of his life, John Main saw the expansion of his vision of community through the teaching of this tradition. He believed that 'meditation creates community'. The World Community for Christian Meditation that grew from his work continues to express the truth of that insight for our time.  He died at the age of 56 in Montreal and is buried at Mount Saviour Monastery, Elmira, NY.
There is no part-time or partial prayer as if the Spirit were not always alive in our heart. But there are times, our twice-daily meditation, when we make a complete turn of consciousness towards this ever-present reality. There comes a level of awakening when our awareness of this reality is constant, throughout our most diverse activities and concerns. ~ Fr. John Main
---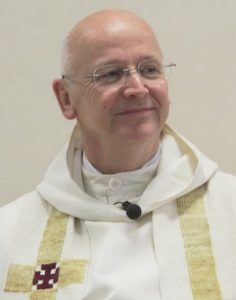 Fr. Laurence Freeman OSB is currently the worldwide leader of the World Community for Christian Meditation.  He was born in England in 1951 where he was educated by the Benedictines and studied English Literature at New College, Oxford University. Before entering monastic life, he had experience with the United Nations in New York, banking and journalism. 
In the monastery, his spiritual teacher was Fr. John Main. He helped Fr. John establish the first Christian Meditation Centre in London. At the invitation of the Archbishop of Montreal, in 1977, he accompanied Fr. John to establish a Benedictine community of monks and laypeople dedicated to the practice and teaching of Christian meditation. Fr. Laurence studied theology at the Universite de Montreal and at McGill University. He made his solemn monastic profession in 1979 and was ordained to the priesthood in 1980.  After the death of John Main in 1982, he continued the work of teaching meditation that had already begun, and to develop a global community.
 In 1991, Fr Laurence returned to England to establish the International Centre of the World Community for Christian Meditation, with groups now present in more than a hundred countries and which has become a 'monastery without walls', as Fr. John envisioned it.  As Director,  he travels and teaches widely, and is the author of a number of books, among others: Jesus the Teacher Within,  Light Within, A Short Span of Days and The Selfless Self.
St. Teresa of Avila once said the human mind is like a boat, where mutinous sailors have tied up the captain.  The sailors all take a turn at steering the boat, and of course the boat goes around in circles and eventually crashes on the rocks.
In Eastern spirituality, the image is often a tree full of chattering monkeys.  This is the first reality all of us discover when we first come to meditation.  That is the human condition (and can no more be avoided than eating and sleeping).  The great illusion is that the goal of meditation is to create a "spiritual spa-like" experience.  Whatever peace, inner calm, or deep silence we eventually come to in the regular practice of meditation will happen through letting go, over and over again -
of mundane thoughts,
of holy thoughts,
of our desire for perfection,
of fears, anger or projections, and fantasies.
One of the first great transforming lessons of meditation, available through the actual experience of the practice itself, is that you will come closer to something of the same compassionate, loving view of yourself that God has.  This happens gradually over time in our practice, as thoughts intrude (even if they take us away for most of a session!) but we return gently, and without self blame, to the repetition of our word.
You have to start very gently, being very compassionate towards yourself.  All of us I think find that we start, we give up, we start again, we give up, and so you've got to be very gentle and understanding. What you'll find is that the experience itself is self-authenticating.  You'll just find that the more you meditate, the more your day seems to come into shape, the more purpose you have in your life, the more you begin to see the meaning in everything, and the more you will find that love grows in your heart.  It may be there's a good deal of meanness there as well, but the love is growing! That's the real test of meditation; you can't put any sort of test to meditation. ... The real test is the love growing in your heart."
~ From Fr. John Main's recorded teaching at weekly group meditation in Montreal.
Try the very simple teaching described in the introduction.  Just do it and don't evaluate the results.  It is simple, but particularly for people of our day and age, not easy, to practice something where we turn our attention from results, self evaluation, and an end product.  Think of how young children approach play...
At that time the disciples came to Jesus and asked, "Who is the greatest in the kingdom of heaven?"  He called a little child and had him stand among them.  And he said, "I tell you the truth, unless you change and become like little children, you will never enter the kingdom of heaven.  Therefore, whoever humbles himself like this little child is the greatest in the kingdom of heaven."
~ Matthew 18:1-4
Perhaps the first step is to not think of meditation as a spiritual technique in which you have a goal to get better and better (like your exercise routine, or practicing your tennis serves).
Practice in the simple way that we recommend, as a discipline - more like brushing your teeth! Determine to carry it out daily because you have determined it is healthy to do so.
Setting aside expectations of yourself allows you to experience the freedom that practicing a discipline confers.
Begin with trying to fit in a morning meditation when you can sit in silence for about 20 minutes.  Some adjustment to the time of waking up might be necessary.
Set it up beforehand, letting family know you have this intention and ask them to defer any requests to you for this time.
Then just start.  Take one day at a time.  Keep trying and don't give up on yourself.
Don't listen to thoughts about how ridiculous this is to even try, because today, or yesterday you weren't able to do it.  Keep coming back.
Once begun, the experience is as Fr. John has said, self authenticating.  You may surprise yourself to discover that the experience itself carries you forward.
Be assured that a wide range of people from captains of industry to busy suburbanites, from farmers to retirees have successfully fit two periods of contemplation in their day.  It sounds simplistic to say that they just decided to do it, but that is usually how it begins.
If you hover around looking at it with your thoughts from the outside, your thoughts will always suggest obstacles, or will project such over complicated plans that it becomes impossible to do.  It is true, that once begun there may be things you find you need to change, like not staying up so late at night, or watching disturbing TV news first thing in the morning, or waiting until morning to assemble the next day's clothes.
These changes may feel like sacrifices at first, but you may find that morning meditation results in a calm centeredness to the rest of your morning. You may then understand that meditation is a gift that gradually affects your life in ways you cannot imagine when you just take the first step on the way.
In the Christian tradition meditation is also called the prayer of the heart or contemplative prayer.  In the prayer of the heart we are not thinking of God or talking to him or asking for anything. We are simply being with God who is in us in the Holy Spirit whom Jesus has given us.
The Holy Spirit is the love, the relationship of love, that flows between the Father and the Son.  It is this Spirit Jesus has breathed into every human heart.  Meditation then is the prayer of the heart uniting us with the human consciousness of Jesus in the Spirit.
St. Paul says, "We do not even know how to pray but the Spirit himself prays within us." Romans 8:26  What unites all our forms of prayer and makes them Christian is that they are centered in Christ.